Japanese culture and the value of Matsumoto Castle in terms of castle architecture
Main features of Matsumoto Castle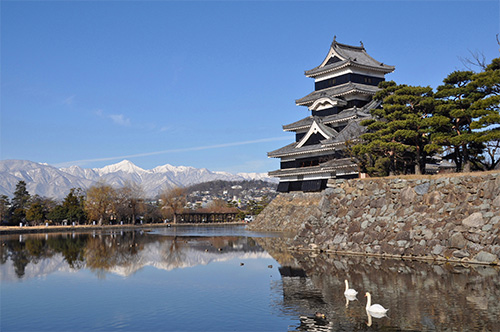 There are only 12 existing castles in Japan. Among them only Matsumoto Castle and Himeji Castle are five-floor castles. it means you can see the five-floor castles in these two places only.
Here are main features of Matsumoto Castle.
The castle built on the flat land immersed in spectacular landscape of the Northern Alps.

While most of the 12 existing castles are build on the mountains or hills, Matsumoto Castle is built on the flat land surrounded by three ditches. You can enjoy the impressive landscape of the castle with the background of the Northern Alps, which is not available in other castle places.

The beauty of black and white contrast color

In the castle, the upper parts of the walls are white-plastered while lower parts are black-plastered. Such black and white color contrast creates the breathtaking beauty.

The castle structure preparing for wars and watchtower for viewing the moon.

The main building was built at the end of the Warring State Period, while the watchtower for viewing the moon was created during the Kan'ei era. The watchtower is the elegant building without military preparation has Three entrances with Mairado doors and vermillion-lacquered railing called "hanekouran." The structure connecting the castle with the watchtower can be found only in Matsumoto Castle. You can see the transition of the meaning of the castle with the times.

Five-floor from outside, while six-floor from inside

From outside the castle, you can see the soto-style structure getting narrow from the bottom to the top. However, you can find an extra floor which is like a loft above the third floor from inside. You can see the similar phenomenon in Inuiko castle building, finding four floors from inside while three floors from outside. This phenomenon can be found in the boro-style castles. Matsumoto Castle has the structure combining the boro-style and soto-style.

High-rise design with pillars

This ever-taller building was constructed with pillars used from the first to the sixth floor. You can see the pillars especially on the third floor of Matsumoto Castle.

16 columns supporting the foundation of the internal stone wall

There are 16 columns 30-40 cm in length and 5 meter in diameter, connected by crosspieces in order to support the foundation of the castle. This structure is similar with the current pile construction method.

Raft-shaped terrain under the stone wall

In terms of creating the stone wall, logs were filling in the raft-shaped space covered with stone plinths in order to prevent the plinths from sinking into the frail ground. This makes the stone wall stable.

Many columns standing on the first, second and third floors

There are a lot of columns from the first to third floors in the castle. It has more space in the higher floors from the four floors, as the number of columns are reduced. It has a firm framework in the lower levels of the castle.